Alkam Energy leads in the diversification of work force

Once a bastion of male engineers, Alkam Energy made a paradigm shift in 2019 as female petroleum engineers joined the department on assignment from the Reservoir Engineering Department.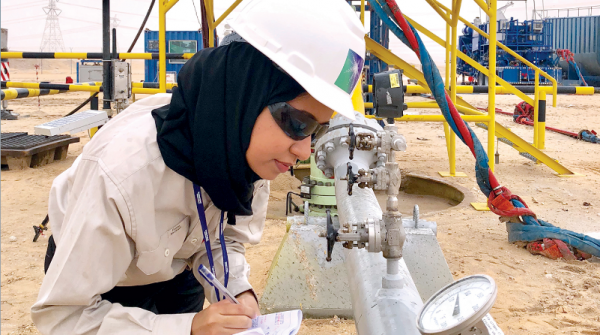 Thanks to their hard work, dedication, and perseverance, coupled with Alkam's uniquely designed Individual
Development Plan (IDP) — especially tailor-made for female engineers — a historic transformation has taken place. Female engineers have not only proven their capabilities in the operational environment, but have emerged as front runners in both the office and field environments.
"This is a major step the company is taking toward encouraging diversity in workplaces and unleashing the young talents in various environments," said Alkam's Vice President Governance, Price Brandon Clark. "Now that more females are into the business, let's just fathom the thought of how much great input we will have as a company, achieving growth, innovation — and most importantly — a great evolution."
Robert Schaefer, Chief Executive Officer, Alkam Energy added: "Gender diversity in the workforce is not only a top priority for the Alkam Group, but also for the Kingdom of Saudi Arabia through the Saudi Vision 2030. It also brings tangible benefits to the company by tapping into the rich talents and hard work ethic of the large and growing female portion of the company's workforce".
Walaa Al-Mukhtar, one of the female engineers taking advantage of this opportunity, said breaking barriers was one key reason she jumped at the chance to work with Alkam, along with the determination to prove that female engineers can add to the industry as much as males do.
Hosting female engineers was equally challenging for Alkam, as the experience was new for this engineering department. Alkam welcomed this challenge and took a dramatic stride to draw the company's greatest untapped resource — female employees. Specific development plans were developed and individual mentors were assigned to each engineer for close monitoring and guidance to reinforce holistic talent management, competencies, and leadership development. The female engineers were placed in strategic units to ensure an easy and smooth transformation to their new job. To ensure a successful transition, the female engineers were assigned to work as support engineers with an experienced professional. Within a short period of three months, they independently started handling all production engineering jobs for a GOSP connected with more than 120 wells in mature fields, and the multiple challenges that followed.
Alkam Energy is not only committed to the technical growth of its engineers, but it also strives to develop and produce future leaders. The female engineers were encouraged to participate in many leadership courses as well as in-Kingdom and out-of-Kingdom conferences on leadership development.
About Alkam Energy
Alkam Energy is a premier, fully integrated provider of technology, engineering and construction solutions to the energy industry. For more than a century, customers have trusted Alkam to design and build end-to-end infrastructure and technology solutions to transport and transform oil and gas into the products the world needs today. Their proprietary technologies, integrated expertise and comprehensive solutions deliver certainty, innovation and added value to energy projects around the world. Customers rely on Alkam to deliver certainty to the most complex projects, from concept to commissioning. It is called the "One Alkam Way." Operating in over 54 countries, Alkam's locally focused and globally-integrated resources include approximately 32,000 employees, a diversified fleet of specialty marine construction vessels and fabrication facilities around the world.
To learn more, visit www.alkamenergy.com
Forward-Looking Statements
In accordance with the Safe Harbor provisions of the Private Securities Litigation Reform Act of 1995, Alkam cautions that statements in this press release which are forward-looking, and provide other than historical information, involve risks, contingencies and uncertainties that may impact Alkam's actual results of operations. These forward-looking statements include, among other things, statements about the expected scope, timing and benefits of the Memorandum of Understanding discussed in this press release. Although the company believe that the expectations reflected in those forward looking statements are reasonable, they can give no assurance that those expectations will prove to have been correct. Those statements are made by using various underlying assumptions and are subject to numerous risks, contingencies and uncertainties, including, among others: adverse changes in the markets in which they operate or credit markets, their inability to successfully execute on contracts in backlog, changes in project design or schedules, the availability of qualified personnel, changes in the terms, scope or timing of contracts, contract cancellations, change orders and other modifications and actions by their customers and other business counter parties, changes in industry norms and adverse outcomes in legal or other dispute resolution proceedings. If one or more of these risks materialize, or if underlying assumptions prove incorrect, actual results may vary materially from those expected. For a more complete discussion of these and other risk factors, please see Alkam's annual and quarterly filings with the Securities and Exchange Commission, including its annual report on Form 10-K for the year ended December 31, 2020 and subsequent quarterly reports on Form 10-Q. This press release reflects management's views as of the date hereof. Except to the extent required by applicable law, Alkam Energy undertakes no obligation to update or revise any forward-looking statement.
Contacts:
Investor Relations
Scott Lamb
Vice President, Investor Relations
+1 832 513 1078
[email protected]
Global Media Relations
Gentry Brann
Senior Vice President, Communications, Marketing and Administration
+1 281 870 5669
[email protected]
Asia Pacific Media Relations
Miki O'Farrell
Manager, Marketing APAC
+6012 305 3109
[email protected]
Media Contact
Company Name: Alkam Energy
Contact Person: Donald Bricks
Email: Send Email
Country: United States
Website: alkamenergy.com