COVID Impact On Global 5G SmartPhone Market 2020-2025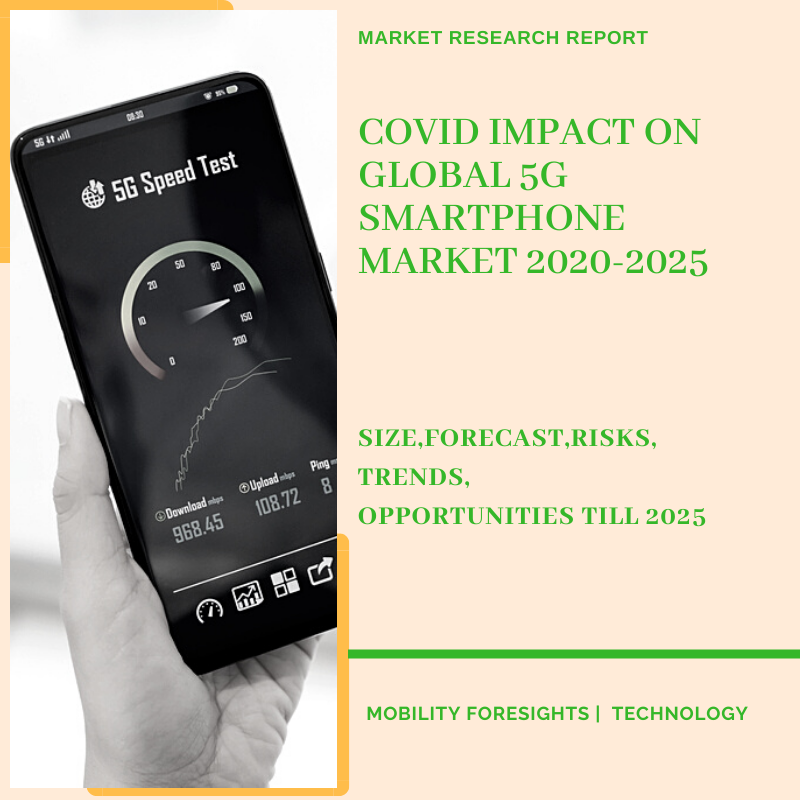 5G models have increased at breakneck speeds, from just around 50 models in Q1 2020, there are more than 200 models with 5G network available in the world. 5G Models have also been extremely attractive to buyers, the sales of 5G models have grown by almost threefold.
5G smartphone prices are expected to come down in 2020 as Qualcomm is selling modems to Oppo, Vivo, Xiaomi, LG and Samsung, which also plans to sell smartphones with its own integrated 5G Service oriented Communications.

Globally, 5G network deployment is rapidly moving from trials to early commercialisation. Demand for 2G, 3G, 4G smartphones shipments are set to decline slightly in the second half of the year even as original equipment manufacturer (OEMs) push to clear out inventory ahead of 5G handset production ramping up in 2020

South Korea rolled out the world's first commercial 5G network in April 2019. The number of 5G subscribers in the country stood at 9.25 million as of the end of September. 5G smartphones accounted for 49 percent of the total smartphone sales in South Korea in the third quarter of 2020, up 2 percentage points from a year earlier.

Qualcomm plans to add its 5G modems to its mid-range Snapdragon Series 6 and Series 7 apps processors, which are today slapped inside smartphones that cost from $200 to $400. The 5G Snapdragon 7 Series SoCs are due out in phones by early 2020.

The pandemic has also affected the exports and imports of electronic and other products globally, owing to the shutdown of borders of key countries.
Download sample- https://mobilityforesights.com/product/5g-smartphone-market/
Google looks to Capture Mid-range 5G Device Market With launch of its new product series, New Pixel 4a and Pixel 5 available in most markets from mid November, 2020.

Sweden's Ericsson reported a higher than expected 38.5% YoY increase in its Q3 2020 gross profit on revenues of SEK 57.5 ($6.5 billion), driven by a sharp increase driven by 5G sales in Asia. This also helped boost its overall gross margins to 43.1%, up from 37.7% in Q3 2019. Ericsson now has 113 commercial 5G agreements with 65 live networks.

LG Electronics announced the launch of a new 5G-running budget smartphone in North America as it looks to compete for the growing market for the latest generation network there. The K92 5G – LG's first budget K Series phone to support the high-speed network will first be available in the region from mid-december, 2020 for less than $400.

Reliance Jio, one of India's biggest telecom operators, is aiming to begin field deployments of 5G networks in 2021. Jio has tied up with Qualcomm to accelerate its 5G rollout, and Jio believes that it can upgrade its 4G infrastructure to 5G without much difficulty because of a converged network infrastructure.

In India, network operators like Airtel, Vodafone Idea, Reliance Jio, etc, have already partnered with vendors like Ericsson, Huawei and Samsung for planned trials, before the service's forecast commercial rollout in 2020.
Download sample- https://mobilityforesights.com/product/5g-smartphone-market/
COMPANIES PROFILED
Samsung Electronics

Huawei Technologies

Motorola

Apple

TCL Communication Limited

LG Electronics

BBK Electronics

Xiaomi Corporation

Nokia Corporation

Lenovo Group Limited

Sony Corporation

Micromax

HTC Corporation

OPPO Mobile Communication Co., Ltd
THIS GLOBAL 5G SMARTPHONE MARKET REPORT WILL ANSWER FOLLOWING QUESTIONS
5G SmartPhone Market size and Forecast , by region, by application
Average B-2-B price for 5G SmartPhone Market, by region, per user
Technology trends and related opportunity for new 5G SmartPhone Market tech suppliers
Market share of leading vendors, by region,
Coronavirus impact on 5G SmartPhone Market earnings
Media Contact
Company Name: Mobility Foresights
Contact Person: Kunal Roy
Email: Send Email
Phone: +1-315-675-4056
Address:HAL 2nd stage 204,56/2
City: Bangalore
State: Karnataka
Country: India
Website: https://mobilityforesights.com/