Aircraft Fairings Market Size Is Projected To Reach $1,713.1 Million By 2026 | Polaris Market Research
The global aircraft fairings market size was valued at USD 1,151.4 million in 2019 and is anticipated to grow at a CAGR of 5.1% from 2020 – 2026 according to a report published by Polaris Market Research
The global aircraft fairings market size is expected to reach USD 1,713.1 million by 2026 according to a new study by Polaris Market Research. The report "Aircraft Fairings Market Share, Size, Trends, Industry Analysis Report By Aircraft Type (Narrow-Body, Wide-Body, Very Large, Regional Aircraft, General Aviation), By Application (Wing-to-Body, Flap Track, Engine Cowlings, Vertical Fin Fairings, Others ), By Material Type (Metals, Composites), By Manufacturing Process (Prepreg Layup, Stamping, Others), By Regions, Segments & Forecast, 2020 – 2026" gives a detailed insight into current market dynamics and provides analysis on future market growth.
An aircraft fairing is an essential structure which manages and the flow of the airplane body in different directions and axes with reducing the various types of drags such as wave drag, interference drag, parasitic drag, engine cooling- drag and other types of drag. The implementation and functional characteristics play a critical role in design, certification and operational aspects of all narrow-body, wide-body, very large, regional and general aviation. These structures directly affect the performance of an airliner as compared to any other old generation airplane without these structures. In other words, airplane fairings are the smooth structures for reducing the air drag between the joints such as wings & fuselage and engine & wings during the flight.
Request A Sample Report At: https://www.polarismarketresearch.com/industry-analysis/aircraft-fairings-market/request-for-sample

Fairings are an essential feature of all airplanes as it reduces the drag at most of the areas of airplane body, reduces the roughness of the body surface, increases the smoothness by covering the gaps between the joints of structures, provides an external outline to the aerodynamic structure of the airliner and increases the speed and its efficiency. The complexity of aerospace fairings depends on several parameters including the type of jet, design, fairing application areas, and number of fairings. For instance, General aviation airliners have lesser complex fairings, whereas long haul/commercial jets usually have more complex fairings addressing the aircraft's application requirements.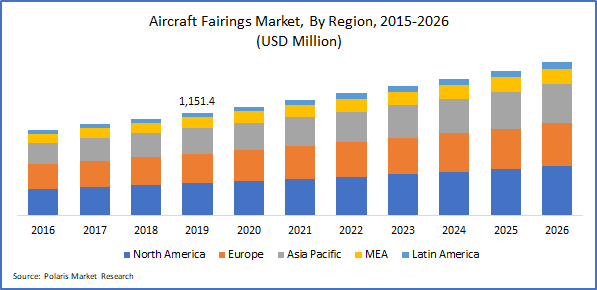 Get Full Research Summary on Global Aircraft Fairings Market Analysis Available At: https://www.polarismarketresearch.com/industry-analysis/aircraft-fairings-market
Rise in global airplanes fleet size, rising demand to streamline aerodynamic structure of jets to boost speed & accuracy, growing global commercial aircraft & general aviation deliveries, introduction of new generation carriers and increasing trend of lightweight components in order to reduce overall weight & increase the fuel efficiency by reducing operational costs, are some of the major factors acting as key drivers of this market.
Among aircraft type, wide-body airplane was estimated to be the largest sub-segment in 2019 and is expected to be the largest during the forecast period as well followed by narrow-body aircraft and very large aircraft sub-segments. This is owing to increasing production and rising demand of wide-body airliner such as A320, B787, B737 and others. Moreover, Airbus anticipated that approximately 34,900 commercial airplanes (narrow-body, wide-body, and very large) will be delivered during 2017 to 2036. A320 family, B737, B787, and A350XWB would remain the growth engines for the commercial airplane segment.
Among material type, composites accounted for the largest share in 2019 and is expected to be the largest segment during the forecast period as well. Also, composites are expected to be the fastest growing material type for airplane fairings during the forecast period owing to increasing demand of lightweight components for airplane structures along with long endurance and less maintenance.
Among manufacturing process type, prepreg layup process was estimated to be the largest sub-segment in 2019 and is projected to be most dominant during the forecast period as well. Also, its is expected to be the fastest growing manufacturing process type for aircraft fairings during the forecast period as well owing to its higher suitability for the composite fabrication and highly preferred method for complex structure for fairings parts. Higher preference towards the prepreg layup by the commercial, general aviation and regional airplane OEMs; increasing production rates of commercial jets, such as B787, A350XWB, and B737; upcoming or the new variants of existing aircraft such as Bombardier C Series and Embraer E-2 jets; and rising airplane fleet size are the major growth drivers of prepreg layup process for the manufacturing of the fairing components globally.
Request for Discount Pricing With Your Specific Research Needs At: https://www.polarismarketresearch.com/industry-analysis/aircraft-fairings-market/request-for-discount-pricing
Among region, North America was estimated to be the largest region in 2019 and is also expected to be remain the largest during the forecast period as well. The U.S. is growth engine of this region and accounted for more than 90% of share in the North American market in 2019. This is owing to large presence of small to mid-sized airplanes OEMs, fairing component manufacturers, raw material suppliers, & distributors. In addition, increasing production rates of the airliner models such as B737, B737 Max, B787, B797, B777x, and combat jet such as F-35 is another major factor aiding in the growth of this market in the region.
According to Polaris market Research, the global market for airplane fairings has less than 90 players throughout the world, wherein top 5 major players accounted for a market share of more than 50% in 2019. Companies such as Composite Technology Research Malaysia (CTRM Aerocomposites Sdn Bhd), FACC AG, Finmeccanica-Alenia Aermacchi S.p.A., KAMAN CORPORATION, Korean Air Aerospace Division, Malibu Aerospace LLC, Royal Engineered Composites, ShinMaywa Industries Ltd., Spirit AeroSystems Inc., Strata Manufacturing (a Mubadala Investment Company), Triumph Group, Collins Aerospace (UTC Aerospace Systems) are some of the key players operating in this market.
Polaris Market Research has segmented the Aircraft Fairings Market report on the basis of aircraft type, application, material type, manufacturing process type, and region
Aircraft Fairings Aircraft Type Outlook (Revenue, USD Million, 2016 – 2026)
Narrow-Body
Wide-Body
Very Large
Regional
General Aviation
Aircraft Fairings Application Outlook (Revenue, USD Million, 2016 – 2026)
Wing-to-Body
Engine Cowling
Vertical Fin Fairing
Flap Track
Others
Aircraft Fairings Material Type Outlook (Revenue, USD Million, 2016 – 2026)
Aircraft Fairings Manufacturing Process Type Outlook (Revenue, USD Million, 2016 – 2026)
Prepreg Layup
Stamping
Others
Aircraft Fairings Regional Outlook (Revenue, USD Million, 2016 – 2026)
North America
Europe

Germany
France
UK
Russia
Spain

Asia Pacific
Latin America
Middle East & Africa

UAE
Saudi Arabia
South Africa
About Polaris Market Research
Polaris Market Research is a global market research and consulting company. The company specializes in providing exceptional market intelligence and in-depth business research services for our clientele spread across different enterprises. We at Polaris are obliged to serve our diverse customer base present across the industries of healthcare, technology, semi-conductors and chemicals among various other industries present around the world. We strive to provide our customers with updated information on innovative technologies, high growth markets, emerging business environments and latest business-centric applications, thereby helping them always to make informed decisions and leverage new opportunities. Adept with a highly competent, experienced and extremely qualified team of experts comprising SMEs, analysts and consultants, we at Polaris endeavour to deliver value-added business solutions to our customers.
Media Contact
Company Name: Polaris Market Research and Consulting
Contact Person: Mr.Likhil
Email: Send Email
Phone: +1-646-568-9980
Address:30 Wall Street 8th Floor
City: New York
State: New York 10005
Country: United States
Website: https://www.polarismarketresearch.com/industry-analysis/aircraft-fairings-market