Gas Turbine Market To Hit $38.80 Billion By 2030, Driven By Technological Advancements in Energy Sector And Rising Focus Toward Distributed Power Production Technologies | Grand View Research, Inc.
According to new report available with Grand View Research, the gas turbine industry to witness enhanced growth owing to increased government backing for power production technologies that minimize carbon dioxide (CO2) emissions around the world over the forecast period.
Gas Turbine Industry Overview
The global gas turbine market size was valued at USD 22.17 billion in 2021 and is projected to reach USD 38.80 billion by 2030, registering a CAGR of 6.2% over the forecast period.
A gas turbine is an engine, which heats a mixture of fuel and outside air at a very high temperature to generate mechanical energy through the spinning of the turbine blades. The mechanical energy further drives a generator, which produces electrical energy. Rapid technological advancements in the energy industry, combined with a shift in focus toward distributed power production technologies, are propelling the worldwide market forward. This market is predicted to expand rapidly during the forecast period, owing to increased government backing for power production technologies that minimize carbon dioxide (CO2) emissions around the world.
Gather more insights about the market drivers, restrains and growth of the Global Gas Turbine Market
Gas turbines are primarily used for power generation. Operating a simple cycle turbine power plant for supplying electricity to the industry is much costlier than purchasing it from outside. Thus, mostly, combined cycle power plants are employed, which have better efficiency. CHP plant is an example of a combined cycle power plant, which can be employed for electricity production as well as for obtaining mechanical drive.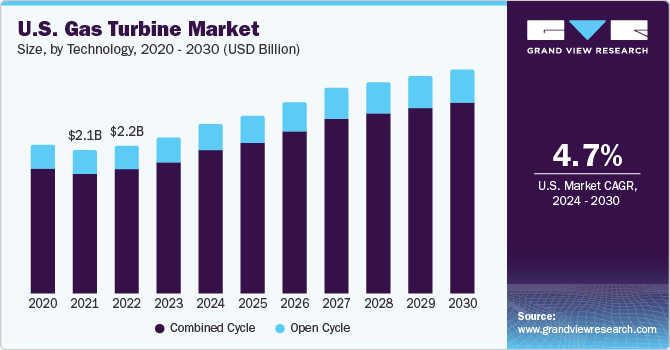 The paradigm shift from coal-based power generation to gas-based power generation in developed and developing countries such as the United States, Japan, China, and India, as well as supportive government policies for the construction of gas-based power plants, are the major factors driving the market's growth.
Gas turbines play an important role in reducing greenhouse gas emissions. As compared to other combustion-based electricity generation applications, gas turbines are very proficient and also result in decreasing carbon emissions. The execution of numerous climate change initiatives along with regulations to cut down GHGs emissions are expected to lead to a surge in the potential for gas turbines during the forecast period.
The U.S. market is anticipated to observe a protruding growth on account of growing government support for power generation technologies that aim to reduce carbon dioxide emissions. The major factors driving the shift from coal-based power generation to gas-based power generation are suitable economics & supporting policies for setting up gas-based power plants in the country. In addition, assured long-term fuel supply availability in the U.S. is also one of the factors supporting the market growth in the country.
Lockdowns in major cities and economies have caused most industries around the world to shut down, effectively halting production. As a result, demand for oil and gas has decreased over the world. Global natural gas consumption was reported to be 3,822.8 billion cubic meters in 2020, according to the bp statistical analysis of world energy 2021, a decrease of roughly 81.1 billion cubic meters from 2019. Furthermore, as a result of the global pandemic, electricity consumption from industrial and commercial end-users has decreased significantly. As a result, demand for gas turbines decreased during the pandemic.
Gas Turbine Market Segmentation
Based on the Technology Insights, the market is segmented into Open Cycle and Combined Cycle.
The combined cycle turbines sector accounted for the largest revenue share of more than 72.0% in 2021 and is anticipated to continue its dominance in the near future.
Based on the Capacity Insights, the market is segmented into ≤200 MW and >200 MW.
>200 MW emerged as one of the most significant segments in this market with a revenue share of more than 65.0% in 2021. It is likely to be the fastest-growing segment during the forecast period.
Based on the End-Use Insights, the market is segmented into Power & Utility and Industrial.
The Power & utility sector accounted for the largest revenue share of approximately 80.0% in 2021. Increased demand for power generation is being driven by the expansion in population and urbanization around the world, which is boosting the use of gas turbines in the power and utility sectors.
Heavy industries, specialty chemical production, glass and cement manufacture, pharmaceutical, and sugar mills are all part of the industrial segment. Due to strict pollution regulations, gas turbines are seeing growing demand in the industrial sector.
Based on the Regional Insights, the market is segmented into North America, Europe, Asia Pacific, Central & South America, and Middle East & Africa.
The Asia Pacific emerged as the largest market share of more than 31.0% for the gas turbine market in terms of revenue as of 2021. During the forecast period, the region led by China, Japan, Indonesia, Thailand, and India is expected to grow at the quickest rate.
North America led by the U.S, Mexico, and Canada is projected to grow at significant rates during the forecast period. The demand is primarily driven by the shale gas reserve and technological development in extraction and mining technology which are consistently lowering the operational cost of gas extraction in the region.
Saudi Arabia is a major gas turbine end consumer in the Middle East and Africa region. This has resulted in a large number of gas turbine providers in the country, all of whom are seeking to increase their market share.
Market Share Insights
June 2020: The consortium between Ansaldo Energia and Shanghai Electric Group signed a contract with the Bangladesh Power Development Board company named North-West Power Generation Company Ltd. The consortium is anticipated to design and build an 880 MW combined cycle power plant in Bangladesh under the terms of the deal, allowing the companies to expand their scale of operation.
February 2021: Siemens and EPC Contractor TSK agreed to collaborate to supply F-class as a turbine to a new combined cycle power plant in Jacqueville, named Cote d'Ivoire. The power plant will have a capacity of 390 MW, and it is expected to start the operation in 2022.

Key Companies Profile:
The market is consolidated by a few major companies, which account for a dominating industry share. Industry participants practice several strategic initiatives, such as joint ventures, mergers & acquisitions, partnerships, and new product offerings, to enhance their foothold in the market. Some prominent players in the global gas turbine market include,
General Electric
Siemens Energy
Mitsubishi Power, Ltd.
Kawasaki Heavy Industries, Ltd.
Ansaldo Energia
Solar Turbines Incorporated
Order a free sample PDF of the Gas Turbine Market Intelligence Study, published by Grand View Research.
About Grand View Research
Grand View Research is a full-time market research and consulting company registered in San Francisco, California. The company fully offers market reports, both customized and syndicates, based on intense data analysis. It also offers consulting services to business communities and academic institutions and helps them understand the global and business scenario to a significant extent. The company operates across multitude of domains such as Chemicals, Materials, Food and Beverages, Consumer Goods, Healthcare, and Information Technology to offer consulting services.
Web: https://www.grandviewresearch.com
Media Contact
Company Name: Grand View Research, Inc.
Contact Person: Sherry James, Corporate Sales Specialist – U.S.A.
Email: Send Email
Phone: 1888202951
Address:Grand View Research, Inc. 201 Spear Street 1100 San Francisco, CA 94105, United States
City: San Francisco
State: California
Country: United States
Website: https://www.grandviewresearch.com/industry-analysis/gas-turbine-market